Vision - Friends - Partners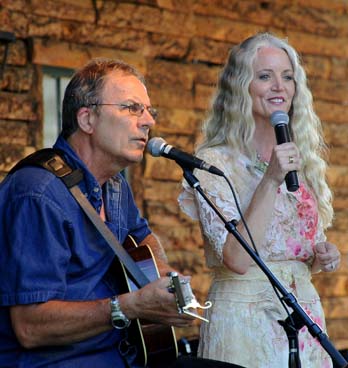 Our dream as owners of Newell Farm is to create a family-friendly musical refuge with top-tier, affordable entertainment, limited crowds, acres of open space and postcard-worthy views. As the region struggles with the rampant growth that is fast becoming a way of life, we promise Newell Farm will remain an understated jewel of the landscape, rejecting asphalt and concrete in favor of 150-year-old trees, groomed lawns, meandering trails, and memorable music. We hope you grow to love this place as much as we do.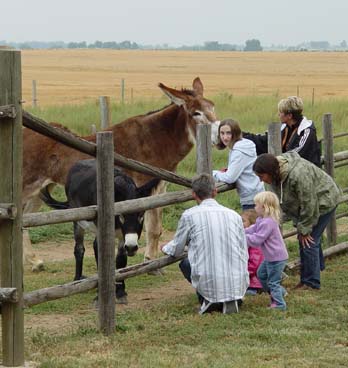 If you'd like to become a Friend of Newell Farm, select the
"Friend" box in the Contact Form.
In return, you'll receive emails with progress reports on the site build-out, how you may volunteer, upcoming events and special happenings. You'll also receive updates on the donkeys and our non-existent two-headed calf. By the way, you'll notice that there is no place on our website to make a donation. We prefer it that way. Thank you for being a Friend.
Newell Farm is working closely with the
Berthoud Historical Society
to ensure authenticity in all aspects of the living history theme we have planned. Mark French, President of BHS, has already donated an antique windmill that will be erected over the hand-dug well at the site, and he will be placing several pieces of his collection of horse-drawn farm implements around the park. In return, Newell Farm will create and support fundraising opportunities for BHS. We think it's a perfect match.
About Newell Farm & Amphitheatre
Historical records from newspapers and stories from local farm families show that the farmhouse on this property was built in 1879, just a year after the town of Berthoud was founded. Ernest Newell moved into the house in 1899 and brought his bride, Rose, to live here with him from 1905 to 1957. They farmed, raised sheep and made their place an important part of the community. Ernie also became the area historian, writing volumes about the life and times of the residents of Berthoud and the Little Thompson Valley.
Today, Ernie and Rose's farm is home to Sarah Lincoln and Butch Hause.
Sarah, a now-retired computer engineer, comes from Tennessee where music was always a part of everyday Southern life. Realizing that this farmstead could be more than just a place to live, she founded the Farm Concert in 2002, with a simple hay wagon stage and coffeehouse P.A. system on the shaded backyard lawn. She called every friend she could think of to attend and hoped for the best.
The show was an immediate success and Sarah soon made plans for the following year's event. What she didn't plan for was meeting Butch Hause shortly after the second concert.
In addition to being a seasoned musician, Butch, a member of a pioneer Colorado family, is a record-producer, sound engineer, two-time Grammy award nominee, and friend to dozens of nationally known entertainers around the country. He was just who Sarah needed to handle the farm concert's growing pains. But as they worked together on all things musical, their personal relationship grew as well. They were married on the Farm Concert stage right before the start of the August 26th, 2007 show.
Now in its 17th year, the Farm Concert is a sold-out event that hosts national and regional Americana acts yearly on the last Sunday in August. Which could be the end of the story. But it's not. It's just the beginning.
Over a year ago, on two consecutive nights, Sarah and Butch had nearly identical dreams that involved a visit from Ernie and Rose. Believing that nothing coincidental happens in a very orderly universe, the concert-producing couple realized that much more needed to be done with this special place to honor its history, to continue the legacy of Ernie and Rose, and to provide a musical haven for the residents of the area.
Together they started the planning process that would transform their land into a living history park and entertainment venue. Their work has begun. And every day brings something new to Newell Farm. It's a lofty endeavor, a life-long journey, a labor of love, and, as far as Sarah and Butch are concerned, a must-have for their community.
They're confident that Ernie and Rose would approve. After all, they're pretty sure it was the Newell's idea.
Pause photo scrolling by hovering cursor over either photo. Use arrows on sides to manually scroll.